Stefano's Grill is an Acclaimed Steakhouse in Orlando Continuing a Tradition of Excellence
Stefano's Grill on Orlando's famed restaurant row has worked hard to earn their reputation as one of the best steak restaurants in Orlando. It's not easy to earn these accolades, but Chef Steff takes the principles of passion and food artistry to an entirely new level with his preparation of only the best, top five percent steaks. His culinary skills extend into butchering, allowing him to cut and customize your steak to the exact size you'd like.
When you step into Stefano's, you know you've entered an Orlando steak house of exceptional quality. The decor and ambiance, and the friendliness of Chef Steff draw you in. The exquisite taste and melt in your mouth texture of the steaks give you a memorable experience that you'll love to return often for. To be truly competitive on restaurant row, an establishment has to be top-notch, with exceptional offerings that people will rave about and tell their friends about.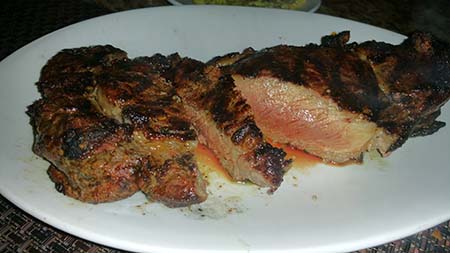 The Steakhouse Orlando Has Made Famous
This Orlando steakhouse has become popular among residents and tourists alike for consistently delivering the best cuts of meat from T-Bones to Porterhouse, Delmonico, Tomahawk, veal chops, Lamb chops, Bone-in Fillets, roasted beef ribs and memorable Steak Chop Cuts. Chef Steff has a background in butchering, unusual for chef's here in the United States, that he received in Italy working in his family's butcher shop.
Add to this the finest organic fruits and vegetables available, cooked and seasoned to perfection, along with in-house made flat breads with a memorable crunch and flavor that comes from Italian imported flour and water, and you have food offerings that show Chef Steff's true understanding of food and how it should be prepared. Gluten-free offerings appeal to those who hope to find dishes made to satisfy needs to adhere to a gluten-free diet.
The Best Steakhouse Orlando Patronizes
Stefano's has created a laid back atmosphere and vibe that appeals to everyone. Chef Steff is a sports enthusiast with an extensive television background, which includes appearances on Fox and ESPN, and special features on the Food Network. He artfully blends his love for sports with his love for cooking excellence. He's also received awards and mentions from highly respected culinary societies.
From the moment you walk into the best Orlando steak house, you know you're in for a special experience. People from all over the world visit Orlando, and to remain a top steakhouse Orlando residents and visitors alike consistently rate well takes a true skill and passion for serving only the best steaks, freshest seafood and artfully prepared Italian specialties. Stefano's offers this and a memorable atmosphere created by Chef Steff's energy charged personality.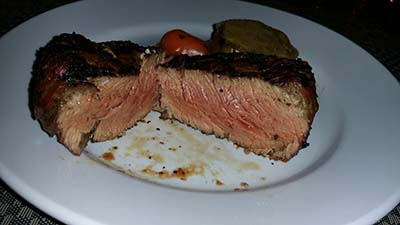 An Orlando Steakhouse to Rave About
Being sure that the steak you order and receive will be in the top five percent for prime beef is not an easy feat to consistently achieve, but Stefano's does it with finesse. There aren't many places in the country that offer world-class dining on steaks prepared by expert chef's. Stefano's is a treasure among steak restaurants in Orlando. Visitors and residents alike have discovered this and continue to come back for more.
The best steakhouse Orlando can find to cater to every person's unique taste is found on Sand Lake in Dr. Phillips. Stefano's constantly strives to keep providing the best hand cut steaks, chops and prime beef to those hungry for a truly delectable steak experience.
Things That Make Stefano's A Steakhouse Orlando Loves
Using only the freshest, high quality ingredients and preparing all meals from scratch the moment they are ordered are two things that have made Stefano's a top steakhouse. Add to that the culinary skill of Chef Stefano Tedeschi, his illuminating, inspirational personality and a comfortable ambiance, and you'll know exactly how Stefano's got its acclaimed reputation.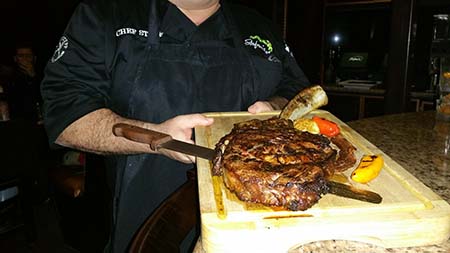 Stefano's will stay passionate about serving only the best steaks, seafood, Italian dishes, incredible appetizers and mouth-watering desserts. The tradition will continue, making Stefano's one of the most talked about steakhouses in the Orlando area. Stop by and find out for yourself what it feels like to be amazed by the passion and pride that goes into every dish served at Stefano's.
Make your reservations today.  Call (407) 668-4745 or click here