Stefano's Grill has Arrived to Take the Title of "Best Steak Restaurant in Orlando Florida"
In Orlando, it is easy to find a decent restaurant—especially on Restaurant Row. Restaurant Row on Sand Lake Road in the Dr. Phillips area is becoming the equivalent of an Orlando showcase for restaurants and new concepts. However, this area has seen a lot of intriguing restaurants close up and move on. In order to last in such a high-volume and reputable area, you have to stand out and deliver. The restaurants which have seen the greatest success, on Restaurant Row, are those which rate high in every area: food, service and atmosphere.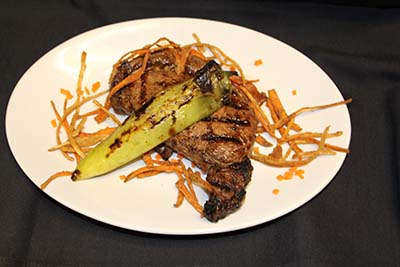 If you're looking for a restaurant in Orlando that is more than just "decent" and you are hungry for a well-prepared steak, plan to dine at Stefano's Grill, the best steak restaurant in Dr. Phillips. Stefano's Grill is a recent addition to Restaurant Row and it is quickly developing a reputation as the best steak restaurant in Orlando. That is partly because they offer delicious and satisfying steaks which are cut to order, right there in their kitchen. It is also because Stefano's Grill was opened by one of the nation's most talented and experienced chefs: Chef Steff.
Chef Steff has chosen Orlando for his latest culinary adventure
Chef Steff, also known as the "The Sports Chef," has enjoyed a long and fulfilling career, in his industry. He has developed a well-rounded set of culinary skills, including a deep understanding of butchery and a thorough learning of nutrition. He has acquired such training and experience through various means and in various locations all over the world, one being his family's butcher shop over-seas in Italy. His passion for and dedication to his skillset has been recognized by L'Ordre International des Disciples d'Auguste Escoffier out of Nice, France, to which he became the first American delegate.
Stefano's Grill serves top-quality ingredients, from pesticide-free vegetables to prime beef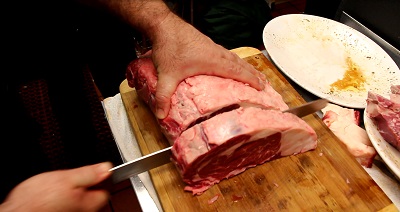 Chef Steff carries his thorough understanding of food and its true potential, if prepared and paired appropriately, into the from-scratch kitchen at Stefano's Grill. Chef Steff strives to stock his kitchen with the highest quality of ingredients. In this kitchen, you will find organic and nutrient-rich produce, imported fine ingredients from Italy, flatbreads which are truly made in-house, many opportunities to optimize dishes for gluten-free diets and, of course, the best hand-cut steaks in Orlando.
On the menu, you can select from classic Italian entrees which have already won praise for their perfection, a vast selection of pastas, exciting appetizers, amazing seafood and many options for hand-cut steaks. On any evening, Stefano's Grill may have available hand-cut meats such as a Porterhouse, Delmonico, T-Bone, Bone-In Filet, Tomahawk, Roasted Beef Ribs, Veal Chops, Lamb Chops and Steak Chop Cuts. You can view the full selection of menu specialties HERE.
Order a hand-cut steak to fit your appetite, at the best Orlando steak restaurant
At Chef Steff's new top Orlando steak restaurant and Italian restaurant, when you order your steak, it is sure to be in America's top five percent for prime beef. You will enjoy the highest quality beef, with the opportunity to request the size that you prefer. Whether you have a large appetite, for the evening, or a small one, Stefano's Grill can accommodate custom steak sizes and hand-cut them especially for you in the restaurant.
It has been said, however, that the true distinction of Chef Steff is his great personality. He is a true entertainer and he knows how to flood a room with atmosphere. This is piece that completes the puzzle to make Stefano's Grill the best steak restaurant in Orlando FL. Chef Steff has charged the atmosphere at his Orlando restaurant with an energy that guests appreciate and keep coming back for his awesome food.
Contact Stefano's Grill at (407) 668-4745 for your reservation at this impressive new steak restaurant on Restaurant Row and Sand Lake. Visitors and locals in Orlando now have the opportunity to enjoy expertly prepared food from the passionate chef who has been recognized by prestigious culinary societies, who has been featured on the Food Network, and who has cooked for stars on ESPN and Fox. Come and taste for yourself the best steaks in Orlando and enjoy the atmosphere at one of the best steak restaurants in Orlando. Further information can also be sought after at http://stefanosgrill.com.